A total of 209 teams with 10 colleagues each played the home hunters across PAN India locations not only achieved the team spirit, but also had a thrilling fun experience in this challenge.
All the team captains were assigned a list of 10 items that their team members can collect/ make inside their home, the fastest, and hence become the best home hunters. The 10 interesting things given to collect/ make inside their home were:
Any Capgemini Branded Item
Any product with the mention: "Made in India" on it.
Any 5 items stacked on each other.
Any item in a shape of traingle.
Any item with its name starting with letter 'O'
3 level-cards pyramid
Placard of "Stronger Together" caption on it.
Head down position posture
Two Paper Airplanes.
One plate of prepared noodles.
Soon the pictures were joined as a collage and sent to us. Here we declare the winners of Home Hunters, basis the fastest team who collected all pictures and made a collage:
1. Charanya G & Team
2. Spencer Rodrigues & Team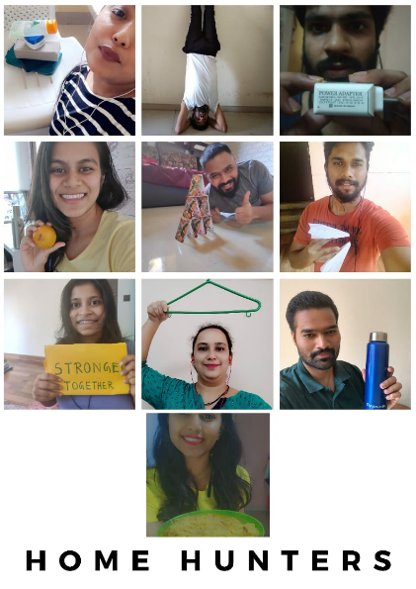 3. Ankita Sahoo & Team
4. Vinaya Shingre & Team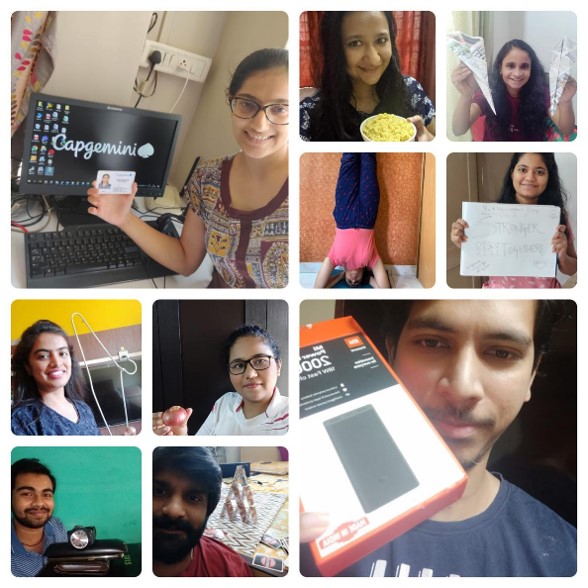 5. Mahesh Angre & Team
6. Raga Sandhya & Team
7. Nagasubramanian V & Team
8. Divyanshu Mishra & Team
9. Nidhi Jain & Team
10. Vidhya Parthasarathy & Team
Congratulations to all the winners!
 Please share your experience about this contest on your Facebook, Twitter and Instagram accounts with hashtags #StrongerTogether,#LifeAtCapgemini and #CapgeminiFitnessChallenge also tagging the Capgemini India page.